A passing storm can cause damage even to a perfectly maintained roofing system. But dealing with a roofing emergency can be less stressful once you know what to do. Fields Roof Service, the area's trusted roof leak repair company, shares some of the essentials you should know.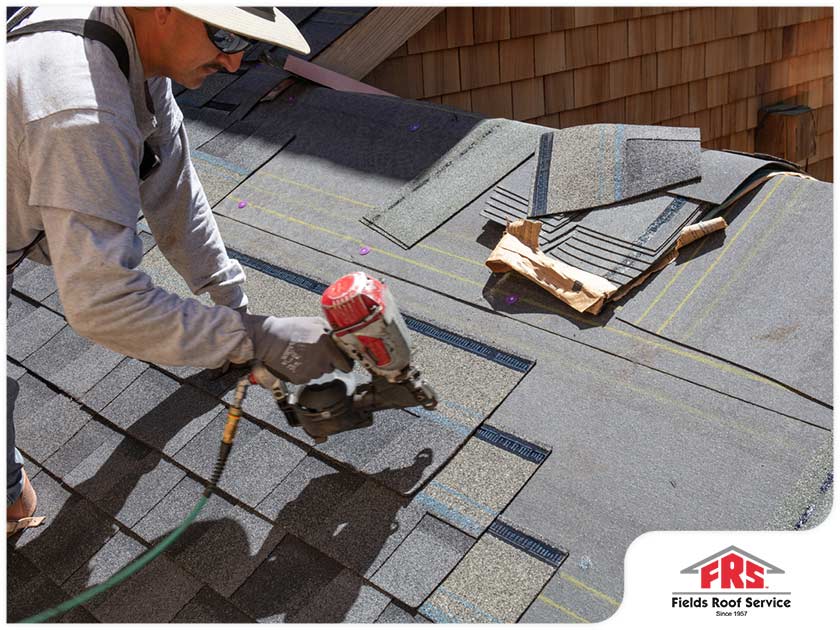 Make safety your top priority. Leaks, shingle blow-offs, impact damage caused by wind-blown debris–these are just some of the ways a storm can harm your roofing system. Before you should deal with these issues, however, you need to make sure you and your family are completely safe. Keep them away from the damaged area, and if there are several leaks in that particular spot, clear them of your valuables. Larger furniture and items that are difficult to move elsewhere should be covered with plastic sheets to protect them from water damage.
Call your local roofer when you can. An emergency leak repair can prevent further damage to your home and property. When possible, promptly call your trusted roofer, Fields Roof Service, and we'll have our quick response team there during a lull in the storm to patch or tarp the damaged area. Once the weather finally clears, we'll come back to provide a more permanent solution to your roof storm damage.
Document the extent of roof damage. Do this only when the storm has passed. Check the roof surface for bare patches, where shingles may have been torn off. Inspect your gutters and take a closer look at your home's interior for possible leaks. You'll know them by the water stains and streaks along the walls and ceiling. Make sure to document the storm damage through photos or videos–this will help you immensely once you have to submit a claim.
Fields Roof Service is the premier roof contractor you can count on for superior emergency roof leak repairs. With our top-tier services and professional crew, we'll restore your roof to rights and extend its life. We proudly serve the areas in and around Tacoma, Seattle, and Bellevue, WA. Call us today at (253) 852-4974 or fill out this contact form to schedule your roof evaluation.